What is Chiropractic Care?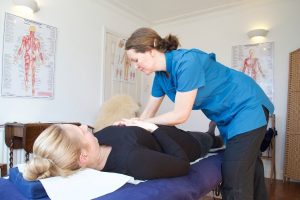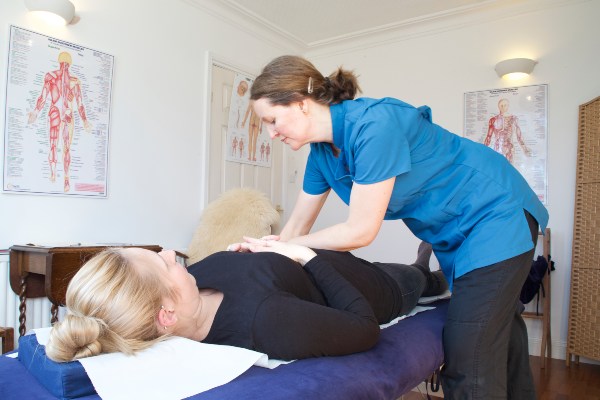 Chiropractic care is a non-invasive approach to improving your health through your spine, nerves, joints, and muscles. Chiropractors use safe and painless techniques to alleviate pain, restore range of motion, and address some types of acute injury as well as repetitive motion injuries.
Through gentle yet precise adjustments we can free up your neuro-musculoskeletal system, enabling you to achieve your varying goals; whether they be to resume your favourite sport, dressing without help, cutting your own toenails, sleeping better, being pain-free or just feeling more comfortable in yourself and thereby able to function at a higher level.
Who are chiropractors for?
Many acute and chronic conditions can be treated via chiropractic care, especially concerns centred around neck and back pain. Your chiropractor will assess your lifestyle, medical history, and concerns to determine if you are an appropriate candidate for chiropractic, and formulate a plan of care that's personalised to your needs. If your chiropractor feels that your condition could better benefit from or will require treatment from a general practitioner or specialist, they will confer with your GP so that appropriate referrals can be made. Notably, people can benefit from chiropractic at all life stages, including babies, children, teens, pregnant women and into later years.
Some common health conditions which may benefit from chiropractic care include:
Low back pain / sciatica
Neck pain
Some headaches and migraines
Shoulder pain, minor sports injuries and performance issues, repetitive strain injuries
Back and pelvic pain during pregnancy
Pelvic and spinal dysfunction in babies and children
Your Initial Consultation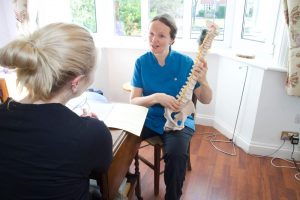 When planning for your first clinic visit, you should estimate a 60 – 75 minute session depending on the assessment and treatment needed. Your visit will consist of a recording of your medical history and lifestyle, a physical exam, and treatments if possible. Your future appointments are likely to be a bit shorter, running around 25 minutes.
At the start of your visit, you will be asked to provide a detailed breakdown of your medical history and lifestyle, including the ways you use your body at work and during physical hobbies. This can help to illuminate causes and contributing factors of painful conditions and dysfunction which may be impeding healing. Some underlying health conditions may determine how, or if, chiropractic care can be administered to you; while individualised care plans which accommodate your medical needs are common, referrals to a GP or specialist for an x-ray, MRI, CT scan or further health assessment may be needed before chiropractic techniques can be safely performed.
During your exam, you can expect to experience a blood pressure check, a standard measure of your health and vital signs. Your spinal alignment, joint function, and neurological function will also be assessed. During this exam, issues and problems are identified and a rationale of care is determined. At this time, a final determination is made as to whether chiropractic treatment may begin immediately, or whether a visit to a GP will be required. A full explanation of this decision, your plan of care, and any actions being performed will be offered to you, and questions are always encouraged!
Your Chiropractic Sessions
At your second visit, I'll talk with you to hear how you feel and we'll do a quick assessment to determine how your body has responded to your first session. We may then alter your plan of care slightly. After this appointment, you can anticipate approximately three or four weekly visits to the clinic. When these sessions have been completed, we'll review you body's response to the treatments. Together, we can then formulate a new treatment schedule that works for you and reflects the level of progress that is being made.
Treatment Style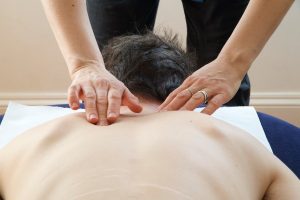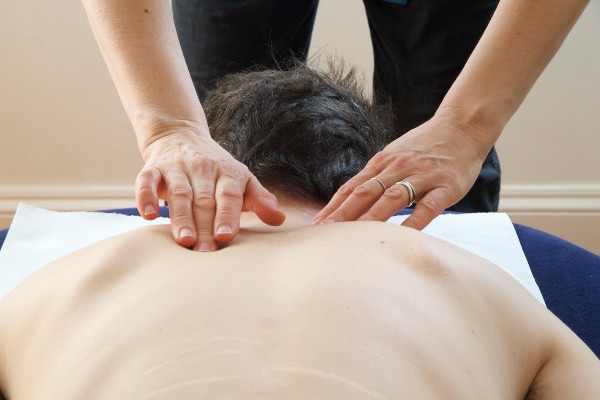 While there are quite a few effective types of chiropractic technique, we utilise the McTimoney method, and feel that it is the most enjoyable to both give and receive. This treatment style focuses on movement restrictions, spinal and pelvic misalignments, and areas of tension throughout the body.
When appropriate, massage, craniosacral therapy, and Emmett therapy which can support and enhance your experience will be used; you will be informed before these techniques are used, and may always opt out of them if you wish. Your treatment will be explained to you as it is being performed, and questions are encouraged at every stage of the process. You are in control of your chiropractic care, and we encourage you to report discomfort of any kind.
What would you like to know?
Frequently Asked Questions
What will be the cost of my treatment?
Your initial visit will be £70, and each subsequent session will be £45.
See more about fees and opening hours »
Do I need to undress?
While most chiropractic care can be performed while you are fully clothed, a more thorough examination of a specific area or the need to use an oil or cream to facilitate therapeutic massage may necessitate the removal of some clothing. Your privacy is assured through the use of a clinical gown and a changing screen.
Am I obliged to stick to my plan of care?
No, you are not! You are in charge of your chiropractic care, and are encouraged to speak up if you are dissatisfied with your treatment plan in any way. Your plan of care will be reviewed regularly, but if you are not happy with your progress, are questioning the effectiveness of your treatment, or are feeling any discomfort, we sincerely encourage you to speak up so that we can work together to find a plan that works for you.
Is chiropractic care safe?
As a non-invasive natural health practice which involves neither medications nor surgery, chiropractic care is statistically safer than many other types of medical care and day-to-day activity.
Are there age restrictions on chiropractic care?
No! In fact, people of all age groups and during all stages of life have the potential to improve health through chiropractic care, including babies, children, teenagers, and pregnant women.
Is chiropractic care safe during pregnancy?
Yes it is, and in fact, it can serve to adjust spinal and pelvic misalignment that causes lumbar pain both during and after pregnancy. As a natural health practice, it uses neither medication nor surgery, and is non-invasive.
Why might my child or teen need to see a chiropractor?
Carrying a heavy pack, using devices, and watching television can all lead to the development of a posture in which children and teens lean forward, placing excessive strain on the back. These posture issues may benefit from chiropractic. Additionally, children who have sustained a sport or playground injury may find relief from pain and increased range of motion after chiropractic treatment.
Does a chiropractic adjustment hurt?
No, your chiropractic adjustment is intended to offer pain relief, and it should not be painful. If you experience any discomfort, speak up immediately so that your plan of care can be changed.
What will my chiropractor do if they can't treat me?
If your pain or symptoms are being caused by an underlying health condition that requires a general practitioner or specialist, your chiropractor will confer with your GP in order to make the appropriate referrals needed to find you care.
"Anastasia has treated me regularly during my pregnancy for pelvic girdle pain and I have found her chiropractic treatment to be intuitive, gentle and caring. She has a peaceful and professional treatment space where she works from her home and the sessions have really helped to realign any imbalance within my spine and pelvis. This has reduced my discomfort and enabled me to stay more active than I believe I would have without treatment. I also hope it may optimise my body for the birth ahead.."
"I've visited Anastasia on a number of occasions due to a bad back (too much time driving a car or desk!). She has never failed to improve matters with a gentle and caring manner. I've never felt rushed, despite asking numerous questions and I would not hesitate to recommend Anastasia's services."